How Much Does a Dental Implant Cost?
Many people are concerned about dental implant cost but they are actually the most cost-effective solution to missing teeth. Unlike dentures and partials that wear down over time and will likely need to be replaced, dental implants are a permanent solution.
The Dental Implant Procedure
Dental implants require a series of drilling into the bone below the surface of the gums. The implant is then placed into the jaw. Time is necessary for the implant and bone to bond. Then an artificial tooth will be inserted and soon thereafter a replacement tooth follow. For a more detailed explanation on the dental implant procedure, please refer to our oral implants and dental implants information page.
Types of dental implants include:
Single Dental Implant Price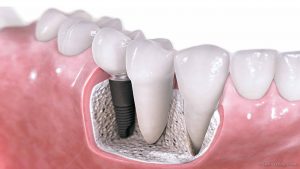 The price for a single dental implant ranges from $1,500–$2,300. This is for a surgical operation to replace one or more teeth without restorations.
This price can change depending on a few factors:
Is a bone graft or sinus lift necessary?

To maximize the success of the dental implant surgery, sometimes a

bone graft

 or sinus lift surgery

 is needed, driving up the price. While the need for this procedure has diminished, it hasn't been entirely eliminated and is definitely a possibility.

How much does your insurance cover?

Different insurance companies have varying fee structures that could affect how much you have to pay out of your pocket.

Who's performing the surgery?

The fee for a specialist is understandably higher.
Abutment Price
An abutment is a connector that's placed on or built into a dental implant. Its purpose is to connect the implant to the tooth/teeth replacement(s).  The price for an abutment ranges from $650–$950.
This price can change depending on a few factors:
Is the abutment custom-made?

If you want a custom-made abutment, the price will be higher than using a prefabricated or manufactured abutment.

What material is used?

Different materials are used to make abutments, including titanium, zirconia, titanium with zirconia, titanium with cast gold, e.max, and alumina.  Since zirconia and e.max abutments were introduced, alumina seems to have fallen out of favor. Titanium has been traditionally the go-to material because it's highly biocompatible and strong. But it sticks out like a sore thumb and some patients don't want that.

What's the fee structure of your insurance package?

Again, insurance coverage largely determines the out-of-pocket money you'll have to fork over.
Dental Crown / Dental Cap
A dental crown, also referred to as a cap, is a protective cover that's fitted over a broken or decayed tooth. The procedure involves drilling down the existing tooth and fitting the tooth-shaped crown on the prepared tooth peg. This restores the alignment, shape, and strength of that tooth.  The price for a dental crown ranges from $1,100–$2,000.
This price can change depending on a few factors:
What's the material?

There are three options to choose from: Precious metal, non-precious metal, and all ceramic. Each material has a different cost.

How much does appearance matter to you?

A good-looking, "tooth colored" tooth will usually cost more and may be well worth the extra price if the tooth in question is very noticeable.

Your insurance coverage

.
As both a periodontist and prosthodontist, we prefer crown fitting. With a background in surgery and prosthetic training, we always have the perfect final restoration in mind.
Multiple Implants Price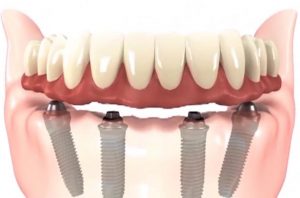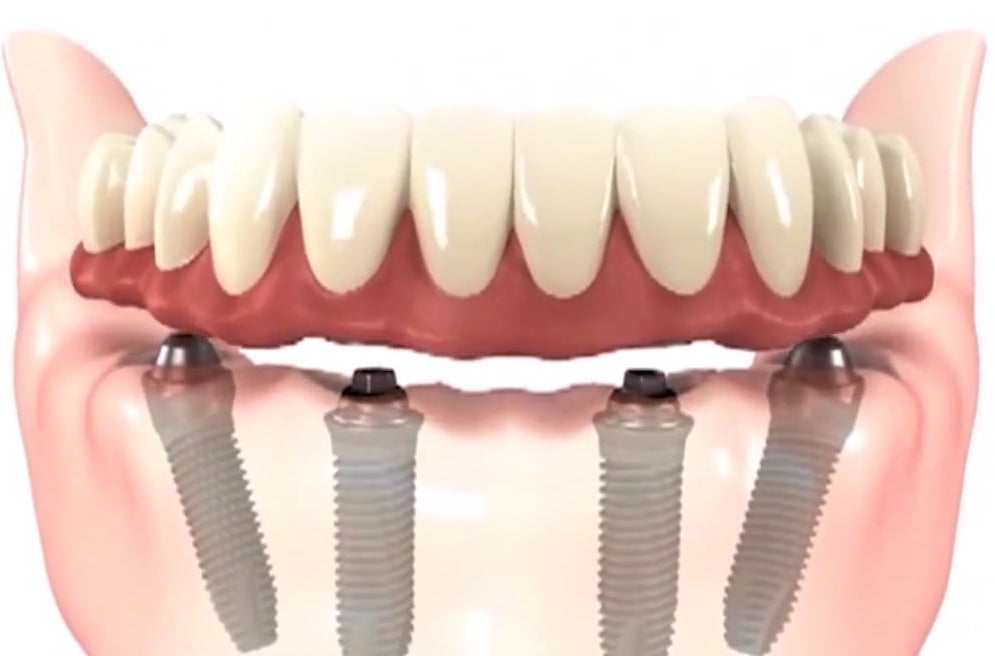 If you need several teeth replaced, implant-supported bridges or All-on-4 implants are your best option. Unlike some of the other options that have to rely on adjacent teeth, implant-supported bridges function independently and will help return you to a natural look and feel.  The price for implant-supported bridges ranges from $3,250–$30,000.
Your price will be determined by several factors:
How many implants in how many locations?

Multiple implants that are placed in different positions typically cost more.

Is a bone graft necessary?

As with single-tooth implants, the dental implant cost increases when bone grafting is required.

What type of restoration implant supports? There are two types of implant supports, removable prosthesis or fixed prosthesis.  Implant-supported removable dentures will cost less than fixed porcelain bridges.
Go With What Will Make You Happy
Price and dental implant cost is always a sensitive topic, and something as personal as tooth implants may make it even harder to decide what option to choose. If you aren't sure, ask your dentist about your options and their experience with each type of dental implant. Ultimately, the decision is yours, which is exactly why most patients choose the option that gives them the most support while looking great.
Request A Consultation Today