Dentures and partial dentures replace either some or all of your natural teeth. We have our own on site dental laboratory, so that we can replace teeth, be it one tooth or many teeth, with affordable dentures and partial dentures the SAME DAY the tooth is lost.
Same Day Dentures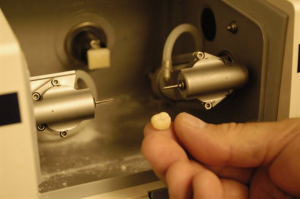 If you already have dentures or partial dentures, and they break or get damaged, we can repair your dentures while you wait. In as little as 45 minutes, you can walk away with perfect dentures or partials and a more confident smile! Again, our patients are our most prized assets. We know it's embarrassing to walk around without dentures or partial dentures. When you are missing teeth, we BOTH look bad.
While others are waiting for a dentist to get back from vacation or to open up the dental office to repair their dentures, you can get your dentures or partial dentures ready the same day you visit! You won't be left hanging, and we'll even do EMERGENCY dental repairs!
As much as we hate to see teeth lost, sometimes the loss of a tooth or teeth is unavoidable. Walking around without teeth because you are waiting to have them replaced is embarrassing, and should never happen.
Request A Free Consultation Today