What are All on 4 Implants?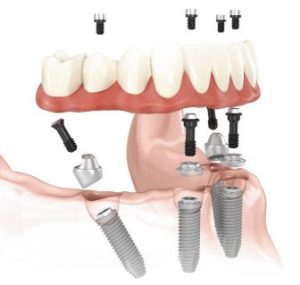 All on 4 dental implants are a full set of teeth supported by 4 dental implants. It will give you complete dental implants or teeth replacements in as little as one hour. Typically those in need of teeth replacement would have multiple, often painful surgeries over many months to get what can now be done in a fraction of that time. Our dental office utilizes innovative technology from Sweden's Nobel Biocare, a world leader in All on 4 dental implant technology. With All-on-4, you need only four implants to support an immediately loaded full-arch prosthesis.
With innovative technology from Sweden's Nobel Biocare, a leader in dental implant technology, we're able to make this happen as one of the leading all on 4 dentists.
Do I Need All-On-4 Implants?
If you've permanently lost a tooth or several teeth due to poor dental hygiene or a disease, chances are you're going to lose even more. More than 36 million Americans are missing all their teeth and the number of people losing teeth to decay is expected to increase in the next 15 years. Keep in mind that 90% of people missing teeth currently have dentures, which is often the only practical solution. Now, if you have dentures or know someone who does, you understand how uncomfortable they can get. Why not go for a more promising and far more comfortable solution with All On 4 implants in Manhattan NY? They're permanent and mimic your natural teeth. In case you're still not convinced, here are some of the benefits of All On 4 implants:
They're a stable alternative to dentures (no more wobbly teeth)

Minimal pain and swelling, hence a shorter healing time.

No more limits on what you can eat or discomfort as you chew

Shorter wait times and fewer implants result in a cost-effective procedure
Benefits of All on 4 Implants
Minimal pain and swelling

Stability even in minimum bone volume

Good clinical results

Planning with NobelGuide treatment concept

Prosthetic flexibility

Shorter treatment time

Improved patient satisfaction

Immediate implant-supported restoration
How To Prepare
Candidates for All on 4 do need to have all extractions and bone grafting done prior to the procedure and must have sufficient bone quantity and quality to support the prosthesis. An evaluation and overview with Dr. Kim will be discussed to prepare for the procedure…
A comprehensive dental exam

will be done including dental X-rays taken and models made of your teeth and mouth. You also may need a special type of computed tomography (CT) scan, that will allow the dentist to accurately measure the height and width of your existing bone to evaluate the health of your teeth and jaw bone.

Treatment plan.

212 Smiling will tailor a treatment plan to account all factors of the procedure. If the surgery is invasive we will take into account the factors and the procedure with a timely thought out plan. This will include a walkthrough of the procedure, a step by sept treatment guide and a follow up an appointment if needed.
Make sure to tell your doctor about any medical conditions and any medications you take, including prescription and over-the-counter drugs and supplements. If you have heart conditions or orthopedic implants, your doctor may prescribe antibiotics before surgery to help prevent infection.
Anesthesia may be used to control the pain during your procedure. The 212 Smiling team will instruct you about eating and drinking before surgery, depending on the type of anesthesia. If general anesthesia is used, someone will have to assist you home after surgery and expect to rest for the day.
How Are All On 4 Dental Implants Placed?
The All-On-4 implants involve minor surgery in which four dental implants are strategically inserted into your jawbone. If you're getting a new set of teeth at 212 Smiling it may take as little as an hour and here's why:
We recommend prior extractions and bone grafting for those with a weak jawbone.
Our implant specialists, technicians, and hygienists are under one roof at the time of your dental implants procedure.
Our high-tech solution incorporates 3D scans and VR software to take images of your jawbone and quickly create your prosthesis arch the same day.
If you're familiar with dental implants, you know they are artificial titanium screws placed under the gum line that mimic natural roots. Due to their material, dental implants are able to stay in place and offer great support just like natural teeth. Once the four implants are secured in place, a full prosthetic arch of teeth is immediately mounted to give you that beautiful, natural smile. The prosthetic is created based on your jawbone structure so that there's no discomfort.
After The Procedure
AfterThe All-On-4 implant procedure, you may experience some of the typical discomforts associated with any type of dental procedure, such as:
Minor bleeding

Swelling

Bruising

Pain or discomfort
If swelling, discomfort or any other problem gets worse after surgery, contact your dentist as you may need pain medications or antibiotics. You may need to eat soft foods while the procedure site heals. Typically, your dental surgeon or dentist will use stitches, if invasive, that dissolve on their own, but if not your dental surgeon or dentist will have to remove them.
Call Us Today for More Information
If you're tired of dealing with dentures or just want to smile confidently again, call 212-764-5464 today and speak to our dental implant specialist at 212 Smiling about our All-On-4 implants.
Request A Consultation Today