What are All on 4 Implants?
All on 4 Implants will give you complete dental implants or teeth replacements in as little as one hour.  Typically those in need of teeth replacement would have multiple, often painful surgeries over many months to get what can now be done in a fraction of that time.
Our dental office utilizes innovative technology from Sweden's Nobel Biocare, a world leader in All on 4 dental implant technology.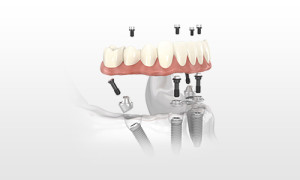 With All-on-4, you need only four implants to support an immediately loaded full-arch prosthesis.
Benefits of All on 4 Implants
All-on-4 implant procedure's most notable benefits:
Minimal pain and swelling
Stability even in minimum bone volume
Good clinical results
Planning with NobelGuide treatment concept
Prosthetic flexibility
Shorter treatment time
Improved patient satisfaction.
With an All-on-4 treatment, patients benefit from an immediate implant-supported restoration, as a provisional prosthesis is screwed onto the implants right after surgery.
Candidates for All on 4 do need to have all extractions and bone grafting done prior to the procedure, and must have sufficient bone quantity and quality to support the prosthesis.
Read more about All on 4 and new teeth in a day at our blog.
Call (212) Smiling (212-764-5464) today to speak to one of our dental specialists about All-on-4, the exciting and high tech new solution for teeth replacement that computer guided dental implant surgery offers!
Request A Free Consultation Today