What Exactly is Teeth Whitening?
Teeth Whitening, also known as dental bleaching, is a rather common procedure in which an oxidizing agent is used to remove dental staining and make your teeth appear more white. The FDA says that whitening your teeth helps to restore the natural color of the tooth and bleaching the teeth whitens them more so than what their natural color is. It not only stops and prevents the discoloration of the teeth but it also stops and prevents stains. The teeth whitening procedure only lasts for so long and then needs to be done again. It just so happens to be one of the most popular procedures in the cosmetic dentistry field. Regular cleaning appointments will help reduce a build-up of substances on the teeth that can discolor them and make the whitening process more difficult.

Your dentist may also recommend that you get teeth whitening if you are planning other cosmetic dental procedures, such as porcelain dental veneers or composite bonding, in order to ensure a better match between the restoration and your natural teeth, or after the removal of braces, to get rid of any staining that built up around the metal brackets.
What Causes Teeth to Discolor?
There are many causes of tooth discoloration. Some of the most common include the consumption of highly colored foods and drinks (berries, coffee, tea, red wine). Some medications, aging, smoking, and trauma can also cause teeth discoloration.
Some Advantages of Teeth Whitening:
Whitening your teeth

is very affordable – with so many options and methods out there it has grown to become the fastest and most popular trend for changing, updating and improving one's' appearance instead of wasting a ton of money on a whole new wardrobe.

You will gain a lot of self-confidence – Looking good is the main reason behind whether or not people have self-confidence.  Having a smile that is whiter helps to lessen the appearance of wrinkles on the face.

A white smile will lead to more positive changes – Believe it or not having a whiter smile will lead you to make other good and healthy choices such as eating healthier and living healthier.

Best of all there are no harmful side effects to getting your teeth whitened.



Is Teeth Whitening Safe?
Yes. Clinical studies have shown that whitening your teeth with carbamide or hydrogen peroxide under the supervision of a dental professional is safe for teeth and gums.
What are the Side Effects?
The most common side effect to teeth whitening is tooth and gum sensitivity. Your dentist is your best resource to ensure that you are a good candidate for whitening and that you are using the right concentration of whitening formula. Philips Zoom at-home whitening products have two mild desensitizing agents, potassium nitrate and Amorphous Calcium Phosphate (ACP), to minimize tooth sensitivity.
How Does ZOOM Teeth Whitening Work?
The procedure begins with a short preparation to cover the lips and gums, leaving the teeth exposed. The dental professional then applies the ZOOM hydrogen peroxide whitening gel, which works together with the ZOOM light to penetrate the teeth and break up the stains and discoloration.   The gel is applied for three 15-minute sessions of light activation, for a total treatment time of 45 minutes. Immediately afterward, a sensitivity-reducing fluoride gel is applied to the teeth.
Immediate results

– With Zoom teeth whitening, you'll have a brighter smile in just 45 minutes.

Long Lasting –

You'll experience less fade back with Zoom teeth whitening gel.

Safe –

Zoom teeth whitening is safe and comfortable.

Performed by a Dental Professional

– Zoom teeth whitening is performed by a dental professional so you know you'll get the best results.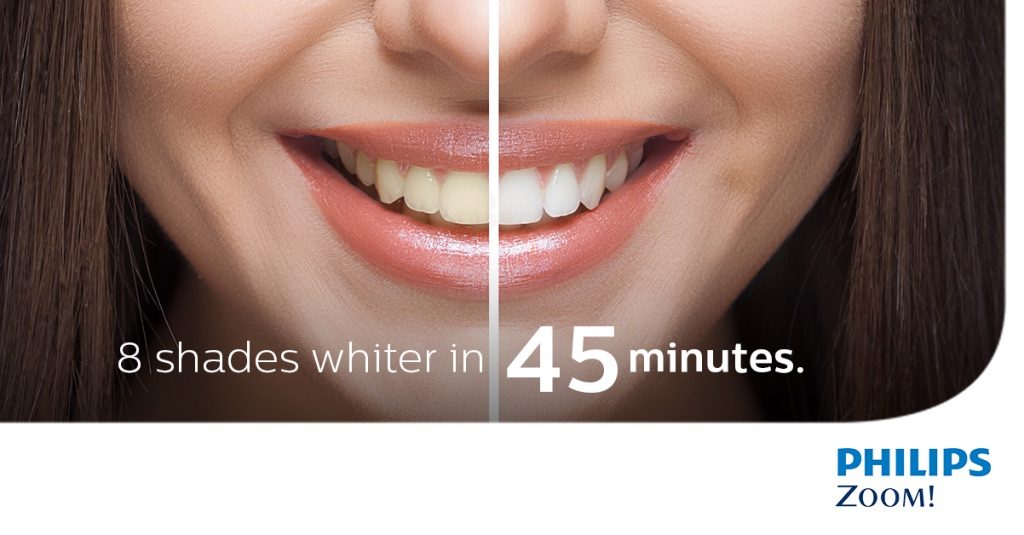 What are the Steps to Whiter Teeth?
Cover-Up

– In the first step of the procedure, your dentist will cover your lips and gums so that only your teeth are showing. This protects your lips and gums from the Zoom teeth whitening gel.

Get Ready to Zoom!

– Next, your dentist will apply the Zoom Teeth Whitening gel, which is designed to be used specifically with Zoom light. The light and gel work together to gently break up and remove the stains on your teeth.

Relax

–Listen to music or watch TV while your dentists apply the Zoom teeth whitening gel in 3 fifteen-minute sessions for a total treatment time of just 45 minutes!
Why is ZOOM Teeth Whitening Better Than Take-Home Options?
Our teeth whitening treatment is fast and convenient for your time.

The results are long lasting and will leave your teeth bright for a long period of time.

We use a procedure that is low sensitivity and won't compromise sensitive or painful teeth.

We have proven results and photos from past patients to show the real-life results.

A dental professional performs all our services so you can rest assured that your teeth are in capable hands.
How Long Will the Results Last?
Whitening treatments help to reduce existing stains, but through consumption of coffee, soft drinks or just through natural aging, your teeth may eventually become discolored again. Maintenance whitening can help combat recurring discoloration. Only Philips Zoom at-home whitening products include ACP, which has been shown to help reduce whitening fade-back.
How Long Does it Take?
With Philips Zoom teeth whitening, your teeth will be visibly whiter in one day. With Zoom in-office, you will achieve up to eight shades whiter in 45 minutes. With Zoom at-home, when used as instructed, you will achieve the same great results in one-two weeks, depending on the concentration of formulation and wear time you select.
Protect Your Teeth From Teeth Whitening Damage
Teeth whitening damage can be caused by a variety of different wrongdoings. With some at home applications, one may get chemical burns from improper bleaching. Overuse of hydrogen peroxide in whitening products may not cause damage, but they will spur sensitivity issues.  Overall, if done properly, teeth whitening should not cause any serious or long-term effects. We've compiled some best practices for what to do, and what not to do.
Tips, Tricks, And Alternatives To Avoid Teeth Whitening Damage
If you are looking to take action into your own hands than you may find these tips helpful in avoiding common teeth whitening damage:
Instead of hydrogen peroxide-based toothpaste, try using whitening toothpaste. They will contain a rational level of approved whitening chemicals that you won't damage teeth.

Eating a small amount of cheese after meals may help prevent tooth decay and help enamel re-build.

Alternatives to teeth whitening include veneers, which include porcelain coverings that get bonded on your teeth.
How to Whiten Your Teeth With Invisalign
If you are an Invisalign patient considering teeth whitening in Manhattan, using your Invisalign aligners as teeth whitening tray may be the perfect option for you!
A huge perk of deciding to straighten your teeth with Invisalign in New York City is that the aligner trays can also be used as teeth whitening bleaching trays. Your Invisalign braces dentist will provide you with a prescription strength at home whitening gel.  This gel can be placed directly in your Invisalign trays and rinsed out after use. The gel should be worn in the trays from one to twelve hours, depending on the strength of the gel. There are types of overnight whitening gel which can be worn during the night.
Why Teeth Whitening May Cause Tooth Sensitivity
There are two main reasons why some people experience tooth sensitivity after undergoing a teeth whitening procedure.
Genetics: Some people are more prone to experiencing tooth sensitivity than others.  If you experience tooth sensitivity for other reasons, teeth whitening may trigger tooth sensitivity.
Enamel Strength:  Daily exposure to acidic foods and drinks such as soda can weaken the enamel, causing tooth sensitivity after a whitening treatment.
How to Prevent Tooth Sensitivity After Whitening
You may be thinking about getting teeth whitening, but worried that it will cause too much pain and tooth sensitivity after the whitening procedure. Fortunately, there are several ways in which you can keep tooth sensitivity at bay.
Refrain from consuming acidic foods and drinks

Use a toothpaste and mouthwash with fluoride

Look for dental products labeled for sensitive teeth

Do not over brush your teeth by brushing too hard
5 Things to Know When Searching for Teeth Whitening Services:
What do you want your teeth to look like?

We're all born with our own individual tooth color, which can range from yellow-brown to greenish-gray. The tooth shade you aim for will depend in part on your starting color.

How much are you willing to spend?

Teeth whitening in Manhattan costs can vary greatly. It's a good idea to have an idea of what you can spend, which will help you and your dentist decide what the best system for you will be.

How long can you wait for whiter teeth?

Some teeth whitening systems may require multiple visits to achieve the shade you desire. Depending on your needs, your dentist can devise a teeth whitening system that minimizes chair time.

Are you looking for teeth whitening or teeth bleaching?

It's important to remember that teeth whitening refers to the restoration of a tooth's surface color by removing dirt, while bleaching can whiten your teeth beyond your natural color.

Does your dentist offer ZOOM teeth whitening?

Fewer dentists offer this

ultra-effective teeth whitening in Manhattan

as a service, and if you'd rather spend less time in the chair and more time smiling, look for ZOOM services.
Request A Consultation Today