What Are Same Day Dental Implants
Our office offers same-day dental implants, a cutting-edge solution to the lengthy healing time and painful side effects of normal teeth replacement procedures. With computer assistance and precise calculations, we can send you home with a complete set of dental implants in about an hour. Plus, you may even be able to eat with your new teeth that very same day!
Normal dental implant procedures require multiple surgeries over many months and can result in a great deal of pain as sutures heal. Now, we can accomplish the same procedure in a fraction of that time. The same day dental implants procedure is so precise that sutures aren't needed. This results in a significantly shorter healing time.
How Are Same Day Dental Implants Different Than Traditional Implants?
Traditional Implants
An oral surgery will expose the jaw bone and drill a 6-7 mm hole to insert a 4 mm titanium post.
Waiting time of approximately 2-6 months until your bone grows around the post.
A second oral surgeon will expose the tip of each post and attach the crown.
If a bone graft is needed, then another surgery would be needed before inserting the titanium post adding another 4-8 months of healing time. This is very common as traditional implants can only be inserted vertically.
Same Day Dental Implants
With the help of some light pain medication such as ibuprofen and local anesthesia, the doctor will drill a 2.25 mm through the gum and jaw bone and insert a 4 mm titanium post that is very similar to a screw.
Once the post has been inserted, your doctor will place a temporary tooth on the post. This process typically takes about 15 to 20 minutes.
The inserted titanium post is very secure but for the first month, it is important to take care of the temporary tooth by not eating foods such as raw carrot, apples or anything extremely chewy. This will allow the bone to fully attach to the post.
The differences between same day dental implants and traditional implants are extreme and there is no doubt that same day dental implants are the easier of the two procedures mentally, physically, and financially.
Reasons For Getting Dental Implants
Dental implants can assist you in obtaining the smile that you have always wanted. A few reasons why you would want to get same day dental implants include:
Cavities
Cavities are usually caused by bacteria that form within the mouth. This is the primary reason why brushing your teeth regularly is important. The bacteria in your mouth usually forms in between your teeth in the hard to reach places and at the base of your teeth. As long as the bacteria is present, it will eat away at the enamel of your teeth until it has reached the nerves. Depending on how many cavities you have and severe they are, same day dental implants may be exactly what you need.
Missing Teeth
If you are not properly caring for your teeth, not only can bacteria take over your entire mouth, but severe damage can take place. As bacteria break down your teeth, your teeth could crack, break and even come out. These instances take place because bacteria weakens your teeth and causes extreme damage. In the event that you have issues when you speak or eat, same day dental implants can resolve this issue.
Crooked or Misaligned Teeth
Overcrowding is a common issue that many people have. This event takes place when your permanent teeth grow simultaneously with your baby teeth. Due to this issue, your teeth will grow in an incorrect manner and may also be painful. Dental implants can help alleviate the pain and keep you from having to make multiple visits to the dentist due to several of the alternatives, which include braces and other orthodontic services.
How To Prepare
Before Same Day Dental Implants an evaluation and overview with Dr. Kim will be discussed to prepare for the procedure…
A comprehensive dental exam

will be done including dental X-rays taken and models made of your teeth and mouth. You also may need a special type of computed tomography (CT) scan, that will allow the dentist to accurately measure the height and width of your existing bone to evaluate the health of your teeth and jaw bone.

Treatment plan.

212 Smiling will tailor a treatment plan to account all factors of the procedure. If the surgery is invasive we will take into account the factors and the procedure with a timely thought out plan. This will include a walkthrough of the procedure, a step by sept treatment guide and a follow up an appointment if needed.
Make sure to tell your doctor about any medical conditions and any medications you take, including prescription and over-the-counter drugs and supplements. If you have heart conditions or orthopedic implants, your doctor may prescribe antibiotics before surgery to help prevent infection.
Anesthesia may be used to control the pain during your procedure. The 212 Smiling team will instruct you about eating and drinking before surgery, depending on the type of anesthesia. If general anesthesia is used, someone will have to assist you home after surgery and expect to rest for the day.
Same Day Dental Implants Procedure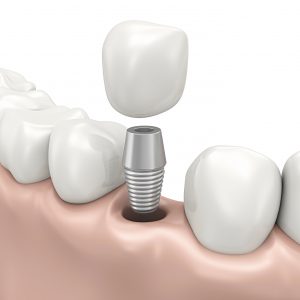 Using radiographic three-dimensional scans along with virtual reality software, we can create a completely accurate representation of your jaw.
A template is then constructed, allowing for extremely precise dental implant placement.
The Same day dental implant procedure can be utilized for single tooth replacement, multiple tooth replacement, and complete tooth replacement.
These permanent acrylic bridges with titanium framework come with either acrylic or porcelain teeth. They can fit your top jaw, bottom jaw, or both.
Since your same day dental implants are created ahead of time using your CT scan, all you need to do is come in and have your new teeth fitted.
Same Day Dental Implant Benefits
Takes only an hour
Same day dental implants are created ahead of time using a CT scan. All you need to do is come in and have your teeth fitted.
Perfectly Tailored
Our dentists will use detailed 3-D scans along with virtual reality software to create a precisely accurate representation of your jaw.
Incision Free Procedure
The procedure for same day dental implants is so precise that sutures aren't needed.
Minimal Discomfort
Upon completing the procedure, the patient typically has no swelling or discomfort. Normal activities, including eating, are possible immediately.
Same day dental implants can do wonders for more than just your eating habits. Whether you're contemplating dental implants for practical or aesthetic reasons, a day will make all the difference.
Gain Confidence
It can be hard to hold your head up high when you're self-conscious about the way you look. Many dental implant procedures take months, but with the same day dental implants offered in our office, you can see the dramatic, uplifting difference in just ONE day. Don't make yourself go through the agony of insecurity anymore – restore your beautiful smile all at once!
Gain Health
Missing teeth can often result in poor eating habits. If you're missing molars, you may not be able to effectively chew tougher items like meats or crunchy vegetables. Missing incisors or front teeth can mean you might have a more difficult time taking bites of your food.
Missing teeth can create a potential for a nutrition-deficient diet. Even subtle symptoms can mark nutrition deficiencies, usually marked by:
Excessive bleeding
Fatigue
Depression
Nausea
Vomiting
Hypotension
Dehydration
With same day dental implants, all it will take to feel stronger, healthier, and happier is one day.
After The Procedure
After your Same Day Dental Implants, you may experience some of the typical discomforts associated with any type of dental procedure, such as:
Minor bleeding

Swelling

Bruising

Pain or discomfort
If swelling, discomfort or any other problem gets worse after surgery, contact your dentist as you may need pain medications or antibiotics. You may need to eat soft foods while the procedure site heals. Typically, your dental surgeon or dentist will use stitches, if invasive, that dissolve on their own, but if not your dental surgeon or dentist will have to remove them.
Request A Consultation Today