Porcelain Dental Veneers in Manhattan, New York
Win Back That Youthful, Sexy and Bright Smile
With Our Special Porcelain VENEERS System
Porcelain Dental Veneers Can Create a More Youthful Look
The fact is that your teeth continue to change as you advance in age, and they give away your age as well. With our dental VENEER system, we can create a more youthful look in your smile by lengthening the incisors.
Have Your Teeth All the Same Length with Porcelain Veneers
The gums often recede, making teeth appear longer. They can wear down as well, making them appear too short. With the porcelain VENEER system, we can create a more sophisticated look by making all your teeth all the same length and more symmetric.
Porcelain Laminate Veneers Can Cover Tooth Discolorations
Teeth yellow with age, and to make matters worse, the consumption of coffee, tea, soda, fruits and other foods stain the enamel.
Bleaching teeth helps, but can not remove all the stain and discoloration of years, nor can it close spaces, change the shape and size of your tooth, or fix chips and cracks in teeth.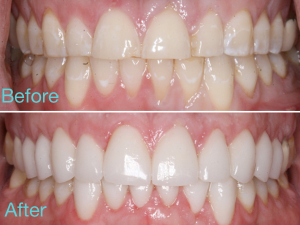 Porcelain LAMINATES rejuvenate your smile by covering the discolored front face of your tooth with a thin new layer of porcelain without taking structure away from your natural tooth.
Besides whitening your smile, porcelain laminate veneers can be shaped to change the size, alignment and shape of your teeth.
With porcelain dental veneers we can,
change the size of your teeth,
close spaces,
make teeth appear straighter,
repair any chips or fractures that make your smile appear jagged.
Unlike "crowns", the tooth structure remains intact with porcelain LAMINATE veneers, and the porcelain is so thin and fine that you will not even know you have them after the first hour or so of wear! But OH what a difference we can make in your smile!
"Long In The Tooth"
The phrase "long in the tooth" dates back centuries, and is used as a euphemism for "old." Believe it or not, it comes from the world of Horses, because as they age their teeth continue to grow and discolor. You can actually judge the age of a horse by the length and color of his teeth!
Your teeth change as you age. Regain your youthful smile with our porcelain veneer system.
With porcelain dental veneers, you're just moments away from looking and feeling better.
Request A Free Consultation Today