Dental Laser Provides Painless, Fast & Effective Dental Services
Advanced Laser Dentistry in Manhattan, New York
Make Your Dentist Appointment A Snap With Pain-Free Laser Dentistry
Call us at 212 S-M-I-L-I-N-G!
The use of dental lasers has provided many options and better dental services for patients.
Versatile Opus Duo Dental Laser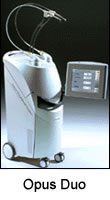 Our dental office has an Opus Duo dental laser. This versatile laser device performs a host of procedures, both tooth and soft tissue, often times with no need for local anesthesia.
Drill Free Laser Dentistry
Dental laser lacks the heat and vibration of the dental drill, so the procedure is quite comfortable for most patients. With the use of dental laser there is no need for an injection. And there is no more painful drilling.
Faster Healing with Dental Laser
For soft tissue procedures dental laser eliminates the need for suturing and healing is much faster due to wound sterilization and the atraumatic effect of the laser on surrounding tissues.
LASER is an acronym for Light Amplification by Stimulated Emission of Radiation. Lasers have become part of our daily lives; they're in our computers, and we see them in the grocery store when we buy our food. Now, with new advancements in dental technology, dental lasers have become an important part of dentistry in New York City as well.
Dentists and oral surgeons have found that dental work done with dental lasers is faster, safer and more effective than traditional dentistry.
Laser dentistry differs from traditional dentistry in that it is far less invasive. Many dental procedures with dental laser can be completed in minutes, not hours, especially routine matters like teeth bleaching and decay removal.
Because of the precision of a dental laser, much less work is actually done in the mouth. This reduces the need for uncomfortable positioning devices, poking and prodding. Sometimes the only equipment a patient actually comes in contact with during a laser dental treatment is a pair of protective goggles.
When your dental work is done with lasers, you are almost guaranteed to get a much more reliable result with much less discomfort. With laser dentistry the area around the tooth being worked on is virtually untouched, unlike in traditional dentistry. By isolating the area to be worked on, a dentist equipped with a laser is also isolating the area that could feel pain later on. And this theory carries on to postoperative swelling and bleeding as well. Some types of laser dentistry don't even require local anesthesia!
The Benefits of Dental Laser Treatment Include:
Faster healing
Less bleeding
Reduced swelling
Frenectomy ("tongue-tie" release, orthodontic or periodontal indications) without anesthesia or sutures
All classes of dental fillings. It's only limitation is that it can not remove old silver amalgam.
Laser assisted periodontal therapy
Smile improvements, i.e. gum sculpting that lengthens teeth due to oversized gingiva ("gummy smile" improvement)
Excisional and incisional biopsies
Gingivectomy, gingivoplasty, crown lengthening, and other gum corrections
Root canals and apicoectomies
Removal of oral lesions such as fibromas or pappilomas, usually with topical anesthesia only
Cold sore treatments
Pediatric procedures. The lack of needles or dental drills is a huge plus for kids.
Treatment of minor mouth and gum irritations
Apthous Ulcer ("canker sore" ) treatments (Free!!!!!! Limited Time!!!)
Tooth bleaching,
Tissue Reconturing
Request A Free Consultation Today