Get Same Day Dental Implants with Teeth-in-an-Hour™:
Cutting Edge Technology from Nobel Biocare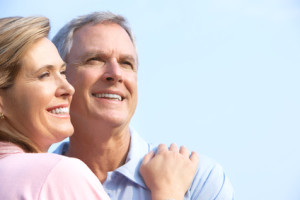 Same Day Dental Implants are Possible, at our New York Offices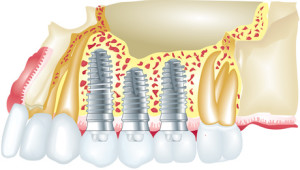 Ask about our new, virtually painless same day dental implants!
Are you unhappy with your dentures? Have missing teeth that you'd like to restore? Afraid of getting dental implants because of pain, recovery time, or the major surgery involved? We can help you, using a brand new high-tech procedure to give you hassle-free same-day dental implants and a beautiful smile once again!
You can get same day dental implants with the help of our new Teeth-in-an-Hour™ technology!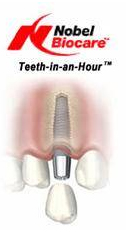 Our office offers Teeth-in-an-Hour™, a cutting-edge solution to the lengthy healing time and and painful side effects of normal teeth replacement procedures. With computer assistance and precise calculations, we can send you home with a complete set of dental implants in about an hour. Plus, you may even be able to eat on your new teeth that very same day!
Normal dental implant procedures require multiple surgeries over many months, and can result in a great deal of pain as sutures heal. Now, we can accomplish the same procedure in a fraction of that time. And with Teeth-in-an-Hour™, the procedure for same day dental implants, is so precise that sutures aren't needed. This results in significantly shorter healing time.
With Teeth-in-an-Hour™ same day implants, you can say goodbye to….
Multiple visits to the dentist's office for measurements, drilling, and surgeries
Months of healing time and associated pain
Pain from ill-fitting dentures
Problems chewing food
How do Teeth-in-an-Hour™ same day dental implants work?
Our dental office utilizes innovative technology from Sweden's Nobel Biocare, a world leader in dental implant technology.
Our dentists will use 3-D scans along with virtual reality software to create a precisely accurate representation of your jaw.
They will then construct a template to guide them during the actual procedure.
The Teeth in an Hour™ procedure for same day dental implants can be utilized for single tooth replacement, multiple tooth replacement, and complete mouth reconstruction.
The permanent acrylic bridges with titanium framework can be fitted with either acrylic or porcelain teeth. They can fit your top jaw, bottom jaw, or both.
Since your Teeth-in-an-Hour™ implants are created ahead of time using a CT scan, all you need to do is come in and have your new teeth fitted. It takes only an hour!
Candidates for Teeth-in-an-Hour™ same day dental implants do need to have all extractions and bone grafting done prior to the procedure, and must have sufficient bone quantity and quality to support the prosthesis.
Call today to speak to one of our dental specialists about Teeth-in-an-Hour™, the exciting and high tech new solution for teeth replacement and same day dental implants offered by computer guided surgery!
Call (212) SMILING right now, and let us give you same day dental implants with
Teeth-in-an-Hour™!